In this post, Energy Ogre will explain:
the Texas deregulated electricity market

no electricity company provides better quality or a stronger connection than others

how you can save time and money by letting us manage your electricity
What is Deregulation, and How Does it Affect Me?
Effective January 2002, the State Legislature deregulated electricity in Texas. Instead of having only one entity in each respective area responsible for electricity, the legislature opened up the state's supply of electricity to retail competition.
This meant private companies could now buy electricity and then sell it to consumers who formerly bought power exclusively from the one utility company in their area. With competition comes innovation, and innovation typically reduces costs for consumers. So since 2002, many Texans are now paying lower electricity prices than they paid more than 20 years ago.
Nearly 85% of Texas consumers can pick their own electricity company from more than 120 retail electricity providers (REP). And, you don't have to stay with the same provider forever.
State law allows Texans to move from one provider to the next after each contract, and it also allows them to break any current contract. In fact, switching providers at least once a year is recommended to avoid overpaying for electricity in Texas.
There are two ways you can refer to Texas's electricity market, both of which effectively mean the same thing:
Deregulated

Competitive
Note: There are still some parts of the state that remain regulated such as the cities of Austin and San Antonio. Click here to find a complete list of deregulated cities in Texas.
Why Pay More for the Same Product?
Companies generate electricity and then sell it to REPs in a wholesale marketplace. Ultimately, all electricity, whether it's generated through renewable or traditional means, ends up in the same grid.
Simply put, REPs buy electricity at one price in hopes of selling it to their customers at a higher amount! With that being said, allow us to dispel one common misconception…
There is no such thing as a retail electricity provider selling "better" electricity than a competitor.
While some do offer cheaper rates than others, the content or quality of the electricity is exactly the same. It's not about who your provider is, it's about what your rate is. Speaking of rates, Energy Ogre ensures you get the cheapest electricity rate in your area, guaranteed!

Here's a free calculator you can use to determine if you're overpaying for electricity.
This is How Electricity Gets to Your Home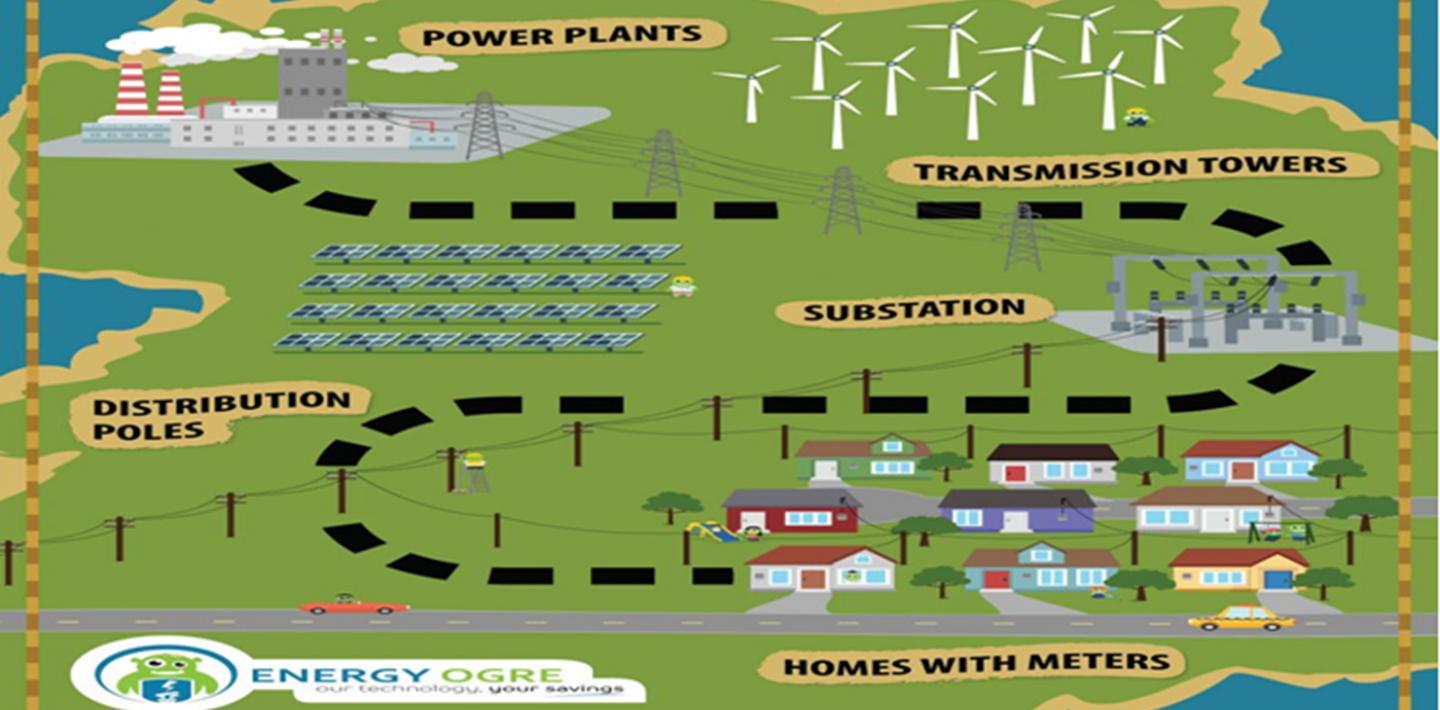 Energy Ogre: Changing the Way Texans Buy Electricity
Deregulation presented Texans with the power to choose electricity plans of all types. However, the competition also forces REPs to use gimmicks or too-good-to-be-true "freebies" to entice new and existing customers.
Companies use these tactics to make consumers believe they are offering the best electricity plans. Unfortunately, your actual cost per kWh ends up being much higher than the advertised rate in the severe majority of these plans. That's where we come in.
With our proprietary systems, we manage all aspects of the contract process and consistently monitor the market to ensure you're always on the best plan for their homes.
Whether you already shop for electricity on your own or have been with the same provider for years, we can streamline the way you purchase electricity. Our service allows consumers to reap the intended benefits of the deregulated competitive market, enjoy the convenience, while never overpaying for electricity again!
With Energy Ogre, you get:
Access to low, fixed rates not available anywhere else

Top-notch locally-based member service

Peace of mind knowing you have the experts on your side
How do I get started with Energy Ogre?
Easy! Click here to learn more. Grab a copy of your most recent bill to find out if you're overpaying for electricity. And if so, we'll tell you exactly how much you could save.
If you're ready to start saving immediately, our sign-up process takes less than 5 minutes!
This has article has been a sponsored message by Energy Ogre, contact them for more information or assistance with your energy needs.